February 2009 launch for 4wd 55hp electric ATV
Farmers Weekly The launch of the biggest-yet electrically powered ATV at next month's World Ag Expo farm show in California suggests that these silent and almost maintenance-free machines could soon take their place as proper working farm tools.
The new 4wd Model One is made by Oregon company Barefoot Motors. It has lithium-ion batteries that power an AC motor on the front axle and a DC motor on the rear one, with total power output of 55hp and 105lbft of torque.
Top speed is 35mph and the ATV will run for 4-5 hours (or 40 miles) at an average of 12mph before needing to be recharged. ... read more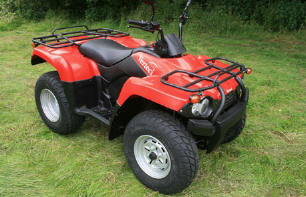 Honda ATV Model History Timeline, 1970-Present
Featured are a number of milestone models from Honda's legendary ATV line up.
1970 ATC90
"What Is It?" asks Honda's advertising brochure. Just a revolutionary off-road vehicle destined to launch a whole new industry that will sell more than 6.5 million machines*. Honda's first ATV is a three-wheel ATC, or All-Terrain Cycle, originally named the US90; the name was later changed to ATC90. The 89cc four-stroke single cranks out 7 horsepower and features extras such as a Swivel-Lok(TM) handlebar for easy loading in a trunk or station wagon. ... read more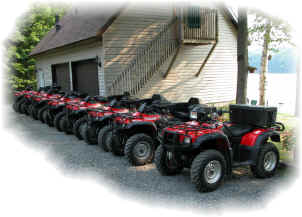 Like the mythical half-horse, half-man of Greek lore, Concept Centaur combines the best of several technologies to create an innovative whole. The result of exploration by Segway LLC's product development team, Concept Centaur will challenge the way you think about four-wheeled transportation. ... read more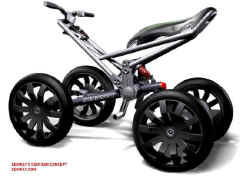 Parry Sound, ON – May 1, 2005 - TRAX - Georgian Bay in partnership with the Parry Sound ATV District Club is thrilled with the results of its' 5th ATV Jamboree, Spring Jam 2005. Over 300 enthusiastic All Terrain Vehicle (ATV) owners made the trek to Seguin Township on April 29th to participate in the first rites of spring. Groups came from over 90 communities across Ontario and an incredible 82% of them booked of work on Friday to take in the Rendézvous Night Ride. With over 250 riders on Friday's tour to the Orrville Community Centre the fun began early and culminated with an opening ceremony presided over by Sequin's Reeve, David Conn. ... read more
Georgian Bay Country now a UNESCO Biosphere Reserve
OTTAWA, OCTOBER 29, 2004 – The United Nations Educational, Scientific and Cultural Organization (UNESCO) has designated the Georgian Bay Littoral, Ontario, as a Biosphere Reserve.
The Georgian Bay Littoral is one of the 19 sites in 15 countries that have been added to UNESCO's World Network of Biosphere Reserves. Biosphere reserves are areas of terrestrial and coastal ecosystems which are internationally recognized within the framework of UNESCO's Man and the Biosphere Programme. Each area is intended to exemplify ways of sustaining local economies and resource use while also conserving the biological diversity found in the different kinds of ecosystems. ... read more
ATVs – First Hand Wilderness Experiences
So you thought the back woods were only for the young fit back packer, a loon call on a remote lake only for the few that could hike, the sight of a bear or moose only down the barrel of a rifle? The carefree enjoyment of a green-canopied pioneer trail with dappled sunshine is just for those with lots of time … right? Well, you obviously haven't enjoyed the many pleasures of guiding an All Terrain Vehicle (ATV) through the dozens of trails and passages in Georgian Bay Country. ... read more
---
Communities all across Northern Ontario are preparing world-class ATV destinations in anticipation of multi-million dollar returns from the tourism sector of our economy. A concept called ATVOntario is being developed that will see joint ventures advanced with communities and the Ontario Tourism Marketing Partnership (OTMP). This is a major initiative that includes 'branding' the ATV experience, addressing issues of liability, risk management and safety, product development, supplier development and community welcome and marketing strategies, measurement, sustainability and the development of a best practice manual. ... read more
---
Trail Adventure in Georgian Bay Country is not limited to the warm seasons alone. The explosive growth of All Terrain Vehicle (ATV) sales in Canada has created a massive pent up demand for those seeking to escape indoor inactivity and replace it with quality outdoor experiences. Popular television series feature survival and challenges that most urban dwellers can only dream about. ATVing is one way to taste the excitement that our rugged Georgian Bay landscape can provide. It's a fact that today's life is full of too many goals and objectives and not enough challenges. ... read more
---
All Terrain Vehicles (ATVs) are the fastest growing segment of the recreational motorized vehicle market, outselling snowmobiles by a ratio of 4:1.
Statistics show that there is an ATV sold every 5 minutes in Canada[1] and one every 40 seconds in the US! Our border states of Pennsylvania, New York, Michigan and Ohio have collective sales exceeding 10,000 per month[2]. Quebec averages about 2,500 per month and Ontario about 1,500 per month. Adding to the equation is the fact that the used-unit population doesn't seem to be diminishing any (many ATVs have been in use for 10+ years, according to some OEM estimates). There are literally millions of older ATVs still in circulation. ... read more
---
The ALL TERRAIN VEHICLE or ATV excels at everything our Georgian Bay climate throws our way! Equally adept at traversing wet, dry, frozen, soft or hard terrain this baby delivers freedom, in a big way, all year round.
FALL gives a haunted feeling to the trails. Every hue of orange, red, yellow and brown adds an exclamation point to this mysterious season. Crisp cool days offer a hint of anticipation and tweak the explorer in all of us. Ink black lakes, brilliant sunshine and migrating birds beckon us to discover the paths deep in our backcountry. Later in the season when frost and snow dusts our crossings we can see the many tracks of wildlife that often choose the same route as us in search of their own adventure. ... read more
---
The 3 "C"s of the Internet are equally applicable to our experience as ATVers in the Parry Sound District and a model for all of Ontario!
... read more
---
The Parry Sound ATV District Club (PSATV) and TRAX Georgian Bay just pulled off their third Jam and true to tradition pulled in ATVers from across Ontario once again. Fall Jam 2004 was held exclusively in the township of Seguin and the warm welcome was noticed by everyone. ... read more
---
This is a time-honoured expression that is usually spoken figuratively not literally. However, in the context of All Terrain Vehicle (ATV) matters it is used in both manners … frequently!
LITERALLY SPEAKING

The Parry Sound area was settled over 150 years ago and along with that influx of Europeans came homesteads, farming, logging and … trails. Many families put down their roots in adjacent acreages but considerable distances from each other. ... read more
---
The Parry Sound area of Ontario sits high on a ledge of rock and water - the great Canadian Shield. It's a spectacular assemblage of geography that combines rugged Georgian Bay shoreline with hundreds of thousands of lakes the glaciers left behind in their haste to head south. No wonder the passion for exploration has permeated the culture here for hundreds of years. Today, the All Terrain Vehicle (ATV), or quad, is one of the area's most popular past times that combines this culture of exploration with a helping of adventure and a healthy dose of adrenalin. ... read more
---
Spring Jam 2003 – Canada's Largest ATV Jamboree was a great triumph! What appeared to be just another ATV rally was actually intended to be something much more … we'll let you in on the secret if you read on.
From it's inception in early December 2002, Spring Jam 2003 was planned and organized to be a huge commercial venture benefiting the businesses of Parry Sound and District. If you noticed, there were no Pancake breakfasts of BBQ suppers. We purposely planned to have all our Jammers stay in accommodations and eat in restaurants in the region. ... read more
---
Had your fill of winter yet? Many of us are anxiously waiting for trails to open so we can once again take time out to enjoy the enviable sights of our rugged outdoors.
All Terrain Vehicles (ATVs) are making enjoyment of our special wilderness much more accessible than any other conveyance. Did you know that over 80,000 ATVs were sold in Canada last year? Parry Sound is rapidly becoming a prime destination for ATVers wanting trails to ride in a safe and responsible manner. Our local club is scrambling to make sure this phenomenon is harnessed to the benefit of both our community and the sport. We have several activities planned for spring that are drawing people from as far away as Windsor. We are building up our web sites and e-mail lists so we can quickly inform all those interested of new developments and activities in the region.
... read more
---
After what seems like decades, the Government of Ontario has amended the Highway Traffic Act to recognize the All Terrain Vehicle (ATV) as a legitimate vehicle. There are restrictions and conditions, but in many parts of Northern Ontario ATVs are now permitted to drive on the shoulders of Provincial Highways.
What Highways?
Schedule B of Ontario Regulation 316/03 lists 7 full pages of 'Highways Permitted to All-Terrain Vehicles'. With some restrictions the following highways in our area are now open to ATV traffic: ... read more
---
For the third year in a row, under the leadership of our own Nancy Ord, Four Wheelin' Women's ATV ride has raised funds for the fight against breast cancer.
This year with participation swollen by Spring Jam 2003, they raised $10,000! This past week, a cheque was presented to the West Parry Sound Health Centre Foundation and the monies went to purchase a special mammography chair and furnishings for the mammography waiting room to add the 'human touch' to an otherwise clinical setting. ... read more
---
Last week a group of 11 avid ATVers left Parry Sound at the crack of dawn to try our hand at an ATV camping expedition. After carefully reviewing the options for our adventure we decided that we would head towards Timmins and try our luck on the multitude of backcountry trails there. This was truly a dynamic outing. We had prepared ourselves with all manner of supplies; warm clothes, food, extra gasoline, GPS, water, waterproof containers galore, tents and enough bungee cords to stretch from Parry Sound to Timmins I'm sure! ... read more
---
The ALL TERRAIN VEHICLE or ATV or Quad is truly meant for the rigours of our Canadian climate. If you thought that only meant fair weather north of 0 degrees Celsius then you discount the "ALL TERRAIN" imperative.
If you are fortunate enough to live within reach of the great Canadian Shield, the very nucleus of North America, you will know that we are blessed with 4 very distinct seasons. Summer delights are well documented, but what about the other 3? ... read more
---
Spring Run & BBQ – a huge success!
Last Saturday saw over 100 ATV enthusiasts from age 2 – 80 gather in Parry Sound to celebrate the rites of spring. Some ATVers travelled from as far a field as Windsor just to enjoy the trails, sunshine and fellowship. Following a very satisfying 4 hour tour the group returned en masse to a Barbeque and many tales of adventure. Thanks to all the club volunteers that corralled traffic, lead the tours, registered the guests made sure all was clean afterwards. Special thanks go to Delta Rocky Crest for donating the burgers. ... read more
---
Georgian Bay and July were made for each other! There's no sweeter place than beside a lake when the temperatures hit thirty something. This summer the Parry Sound ATV District Club (PSATV) has planned some events that will combine all that summer gives with the thrill of backcountry exploration only found on an ATV. If you are tired of travelling the same trails weekend after weekend and want to experience some new scenery and friends then check out our calendar. ... read more
---
This is it! The weekend we all plunge into FULL BLAST SUMMER. Maybe it's the lengthening days or the sudden resurgence of green or the air full of fresh breezes but we are ready to take a big gulp of this sweet season.
Something amazing is happening in Parry Sound. All of a sudden people are talking about All Terrain Vehicles (ATVs to the acronymic smitten). As a club dedicated to the safe and responsible enjoyment of this sport in our community we have taken on many roles. Our most urgent task is education. Misconceptions abound, and yes, there are many real issues that we hope to be part of the solution not an arrogant advocate. ... read more
---
In Canada last year 94,000 new ATVs were sold, in Ontario alone nearly 22,000 ATVs left the showroom and in Ontario's bordering states another 120,000 freedom machines made their way into the hands of new explorers. We all know the popularity of snowmobiling and how it has expanded our economic outlook in the north so imagine what an ATV based tourism and recreation economy looks like. At nearly 4 times the sales and 4 times the seasonal use the upshot of this phenomenon is poised to deliver 16 times the established value of snowmobiling. This sustenance also boasts a weather resistant factor and shoulder season affinity that will provide a consistent and persistent flow of income to our accommodation, food and tourism service sectors. ... read more
---
As Canadians we sometimes take the beauty of our vast outdoors for granted. We focus on the obstacles our terrain and climate present rather than the majesty. Not so for the hundreds of thousands of visitors who flood our tourist seasons!
In the coastlands of Georgian Bay Country we are blessed with some of the most spectacular wilderness on the planet. And comments from tourists around the globe echo that sentiment. There are several ways for a tourist to drink in our land's majesty, by air, water and land. Until recently, wilderness adventures for the latter often entailed levels of physical exertion and time commitment beyond the capabilities of most of our visitors. Glimpsing a moose in a water lily filled pond, a beaver repairing a dam; an ambling porcupine in search of a bark breakfast or a black bear climbing onto a bog was limited to a video purchased in roadside trading post. .. read more
---