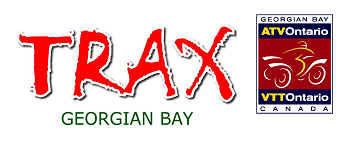 Spring Jam 2005 – Canada's Largest ATV Jamboree draws 310 avid fans from 96 communities across Ontario
Parry Sound, ON – May 1, 2005 - TRAX - Georgian Bay in partnership with the Parry Sound ATV District Club is thrilled with the results of its' 5th ATV Jamboree, Spring Jam 2005. Over 300 enthusiastic All Terrain Vehicle (ATV) owners made the trek to Seguin Township on April 29th to participate in the first rites of spring. Groups came from over 90 communities across Ontario and an incredible 82% of them booked of work on Friday to take in the Rendézvous Night Ride. With over 250 riders on Friday's tour to the Orrville Community Centre the fun began early and culminated with an opening ceremony presided over by Sequin's Reeve, David Conn.
Saturday began with a breakfast prepared by the Foley Agricultural Society volunteers and was quickly sold out sending the tardy off to alternate sources for their sustenance. Then it was 'game on'.
Pre-registration over the Internet divided the participants into 3 tours; Moose Rut, Grand Trunk and Stage Coach. Each Jammer chose their trails to match their personal preferences. Moose Rut offered diverse technical challenges coupled with scenic vistas on trails never before opened to the public. Stage Coach took ATVers down historical routes established nearly 150 years ago. The trail required acute technical manoeuvres and thoroughly tested the ability and stamina of all involved. Grand Trunk extended 61 kilometres all the way out the Seguin Recreational Trail to Sprucedale in the east. Travellers on this pursuit were re-fuelled in the local hotel before heading back to Foley.
The weather flummoxed the prognosticators who were calling for rain all day and instead gave us sunshine and cool temperatures ideal for ATVing. Tired, muddy and exhilarated all of our Jammers made it safely back to the home base in time to get their machines hosed down by the Foley Fire Fighters and shower and enjoy a sit down dinner. The evening featured music, comedy by Mark Crocker, tons of prizes and camaraderie gained by the common conquest of the outdoor elements. Stories and exaggerations were shared as all watched a slide show of the day's events gained through the digital photo contest uploads.
The Spring Jam 2005 organizers estimate an economic impact of close to $100,000 was felt in the township of Seguin. Almost all accommodations were full helping fill a major shoulder season gap in our local tourism industry.
Over 75% of Spring Jam 2005's participants had never been exposed to ATVing in Parry Sound before but many vow to again!
About TRAX - Georgian Bay
TRAX - Georgian Bay Inc. is a product marketing company focused on Community Based developing ATV tourism as established by ATVOntario.
ATVOntario is a marketing alliance established as a public/private initiative between the Ontario Tourism Marketing Partnership Corporation (OTMPC) and the 5 founding communities of Elliot Lake, Mattawa, Eastern Ontario Trail Alliance (Tweed), Georgian Bay (Parry Sound) and Cochrane. The alliance is enacting a community-based model for Shared-Use Trail tourism throughout the province of Ontario.
About the Parry Sound ATV District Club (PSATV)
The Parry Sound ATV District Club is Ontario's largest recreational ATV Club with over 320 members. The PSATV offers its' members social ATVing opportunities throughout the year both in the Parry Sound District and beyond.
For further Information
Contact: Andrew Ryeland, 705 746-9481
Web: springjam.ca