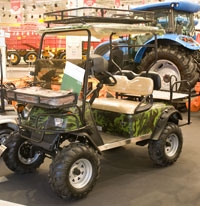 February launch for 4wd 55hp electric ATV
19/01/2009 14:15:00 Farmers Weekly

The launch of the biggest-yet electrically powered ATV at next month's World Ag Expo farm show in California suggests that these silent and almost maintenance-free machines could soon take their place as proper working farm tools.
The new 4wd Model One is made by Oregon company Barefoot Motors. It has lithium-ion batteries that power an AC motor on the front axle and a DC motor on the rear one, with total power output of 55hp and 105lbft of torque.
Top speed is 35mph and the ATV will run for 4-5 hours (or 40 miles) at an average of 12mph before needing to be recharged.

It's a fully commercial-spec machine, says the company, with a carrying capacity of 230kg and capable of towing 500kg. Its 360kg weight and 2.1m x 1.2m dimensions are pretty similar to a big petrol-powered ATV.
Using lithium-ion batteries rather than conventional lead-acid ones, brings two key advantages, says the company. One is the battery longevity. A lead acid battery can typically last 300-500 charge-discharge cycles, whereas lithium-ion batteries can be charged and discharged 2000-3000 times before they have to be replaced.
Also, lead-acid batteries work best when they are kept constantly charged up (as in a car or tractor) and discharging them fully shortens battery life. Lithium-ion batteries, on the other hand, don't mind frequent discharges and can be left fully charged or fully discharged.
Melissa Brandao, Barefoot's CEO, says there has been a lot of interest from farmers in the idea of a fully commercial electric ATV. She says farmers in neighbouring California, especially those that produce high-value (and, increasingly, organic) fruit and veg can see the advantage in a quiet, emission-free unit, and appreciate that there's an eco-friendly publicity benefit in running one, too.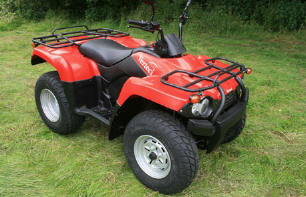 The Italian Vertechi iWork is a fully commercial-grade ATV
The main drawback of lithium-ion batteries is their cost, though this is coming down as production around the world increases. The price of the Model One is £10,200, somewhat more than the £6000-7000 you'd pay for a typical full-sized petrol-powered ATV from one of the mainstream Japanese or US makers.
But there's no fuel to buy and almost no maintenance. Charging the 72V battery will boost your electricity bill, though, unless you take the solar or wind turbine option. The company reckons the operating costs of the Model One will be £4080 lower than those of a petrol-powered ATV over the life of the vehicle.
Barefoot Motors isn't the first company to make a commercially-aimed electric ATV.
Verteci UK has been bringing in the £6636 iWork from Italy for 18 months. This 2wd machine is also a fully commercial-grade unit, says the firm's Andy Firth, and able to meet the needs of both farm and industrial users.
It uses six conventional lead-acid batteries totalling 72V. These drive a 4kW electric motor and give a roughly 25-mile range. It's a physically smaller machine than the Barefoot, with a length of 1.95m, and width of 1.12m and it weighs in at 387kg. Top speed is 30mph.
Recharging the batteries takes 6-8 hours and battery life is 12-18 months. But the best way of maximising battery life is to make short journeys and keep the batteries well charged up. That might rule out long runs across the hills to check on stock, but shuttling around the farm or from one farm to another would be much more battery-friendly.
The company says the iWork is mostly aimed at users who have a particular need for quiet running, like zoos, safari parks and golf courses. But it reckons there is also a market for farmers who are open to the public, or who are selling their own organic produce and want a machine that reinforces their eco-friendly image.
Author: David Cousins